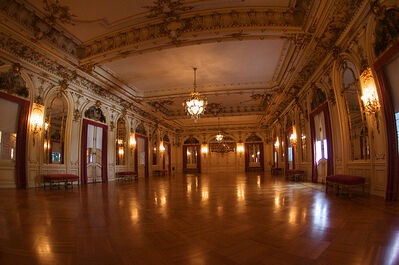 Hill's Crown is the home of Lord Henry Blackmund in the Hamilton Heath section of London. In the far past it was the residence of The Court of Summer and abode of Cyril Morris-Hill, the Captain of The Household Cavalry. It is located on The Bishops Avenue, known for its million-pound mansions and estates
As far back as 1888, Hill's Crown was the residence of the Prince of Summer, Prince Edgar and the members of the Household Cavalry, notably Cyril Morris-Hill who apparently owned the residence (hence the name).
During the unfortunate events surrounding the Jack the Ripper incident, The house developed a Rabbit Hole, leading through a set of double doors on the second floor landing. It is possible that this opening was created by the murder of Governess Elisa Churchward.
After Moris-Hill and Prince Edgar died, the house somehow passed into the possession of the Blackmund family, though exactly when and where is unknown.
In Spring 2010 it hosted the wedding of Cynthia Blackmund and Trevor Fitz-Greyson.
Since Hill's Crown is known by a proper name rather then its street address, entering it is a violation of Mr. Black's Rules.
Community content is available under
CC-BY-SA
unless otherwise noted.